Wherever two or more gather, illness can spread. So as a biologist, I'm rethinking hygiene at church.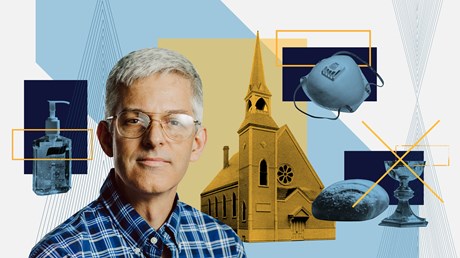 Even as a biologist who has studied viruses and immunology, it took a global pandemic for me to realize the true effectiveness of specific hygiene practices to lower illness spread. There is little doubt that church settings provide an almost ideal location for the spread of contagion of all kinds. Churches in ages past responded to changing public health needs, most notably during the 1918 flu pandemic; even the HIV/AIDS crisis spurred research on Communion practices. Churches can and will endure hardships of all kinds, and with COVID-19 still spreading around the world, many pastors are already figuring out ways to adapt.
Congregational singing is getting most of the attention today, but there are so many other opportunities to spread contagious illness at church. The moment you enter, a greeter offers a warm handshake; then church members enthusiastically exchange the passing of the peace with a touch, handshake, or hug. Next, an usher circulates the offering plate around, and then—everyone partakes in Communion.
Will the lessons we are learning now lead to permanent changes in church practices? It's an interesting question, and only time will tell.
Meeting outdoors
Like all of us, pastors hope to open their churches this summer, but many I've met in my work with the science-faith organization BioLogos are taking a cautious attitude and plan to follow official government guidelines, which continue to evolve, before deciding on a precise course of action. Andrew Smith, a pastor in Kennett Square, Pennsylvania, mentioned the likelihood of not holding a separate children's ministry and said, "we'll probably look at two services instead of one to allow for social distancing." Alex Burgess …