Pastors repent for staying silent to protect ministry at the expense of justice.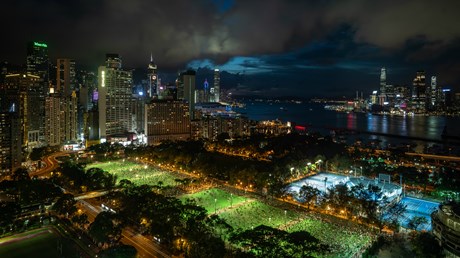 Moments before law enforcement officers violently cleared protesters in Lafayette Park so President Donald Trump could walk from the White House to St. John's Church and have his picture taken holding a Bible, a journalist who had recently spent months on the streets of Hong Kong confidently donned a gas mask while nearby colleagues looked on confusedly as they became engulfed in the ensuing melee.
Chemical irritants and flash-bang grenades are not the only similarities between the clashes taking place in Washington DC and those that have consumed Hong Kong for the past year. As in the United States, Christians in Hong Kong struggle to define their role in a society marred by institutionalized injustice and sharp division.
An open letter drafted by a group of evangelical pastors, theologians, and parachurch leaders and signed by more than 2,400 Christians in Hong Kong echoed sentiments shared by many believers in the US and elsewhere in the world: commitment to the fullness of the gospel; refusal to submit to an authoritarian regime; dedication to walk with the people of their community; and the church's need to repent of apathy and inaction.
Whether in Washington or Hong Kong, the current conflicts center around abuse of official power. In Hong Kong's case, China's central government has effectively thrown out the "one country, two systems" formula under which the former British colony was to be governed for 50 years after 1997. Smashing through the wall of separation that was meant to protect the city from the vagaries of China's socialist legal system, China's leaders are now unilaterally imposing draconian national security measures that would render illegal any opposition …