Pastor Thabiti Anyabwile helped organize Sunday's event, which drew hundreds of participants..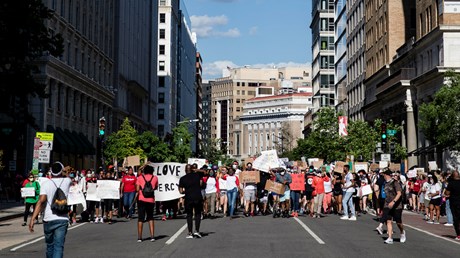 Utah Senator and former Republican presidential candidate Mitt Romney joined demonstrators against racial injustice on Sunday in a march to the US Capitol that was organized by evangelical Christian activists, telling reporters he was attending the demonstration to help "end brutality" before adding, "Black lives matter."
Romney, a member of the Church of Jesus Christ of Latter-day Saints who has spoken often of his faith, also tweeted out a picture of himself at the Faith Works march below the caption "Black Lives Matter."
The day before, Romney had tweeted an image of his father, George W. Romney, then governor of Michigan, participating in a civil rights march in the 1960s.
Romney's office declined to comment regarding his decision to join the demonstration, or if his faith played a role.
Sunday's march, already in progress for hours before Romney arrived, was called by local D.C. churches that count themselves as theologically conservative.
The event, described as a "Christian Response to Racial Injustice," drew a diverse crowd and was supported by prominent preachers such as Thabiti Anyabwile, the pastor of Anacostia River Church, David Platt, lead pastor of McLean Bible Church in Vienna, Virginia, Mike Kelsey, McLean Bible Church's lead pastor of preaching and culture, and Perrin Rogers of the Triumphant Church in Maryland.
Last year Platt prayed with President Trump at McLean Bible Church when the president made an impromptu visit, causing the pastor to explain the incident in a letter to the congregation.
Tyler …