Knowing that God is in control, we are not afraid of the pandemic, not afraid of the government, not afraid of failure, or criticism, or anything else!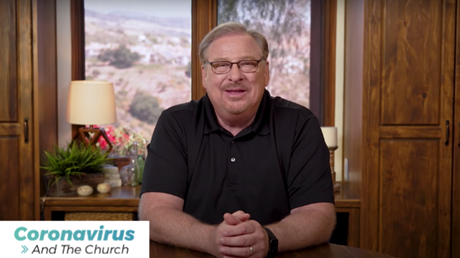 Since what I have to share with you issoimportant, I'd prefer youclick here and watch this message on videoso you can see my face and hear my voice.
I'm providing this transcript for back up and I encourage you to share this with others.
In California, where most of our campuses are, the state government has outlined four phases of reopening as the pandemic subsides. On Sunday, the California Department of Public Health released 12 pages of restrictions for churches that must be followed in order to open public worship during Phase 2. There are too many restrictions to list them all here, so I'll just say that many are unworkable for all churches, and a few are impossible for large churches. Here's one example: Regardless of how many seats you have, no church service may have more than 100 people in attendance. At Saddleback, that would mean our 20 campuses could serve a total of 2,000 people, but the other 28,000 of you 30,000 typical weekend attenders must stay home. That won't work for us!
While we're all eager to gather again for worship, we've decided, for many important reasons, that Saddleback will be patient and wait for better conditions before resuming our large public gatherings.
I'm writing this to all of you in our church family because I want you to clearly understand our motivation and reasons for being patient in reopening. Here are six big themes I want you to understand:
First, our motivationfor every decision is always LOVE and FAITH, not fear.
Knowing that God is in control, we are not afraid of the pandemic, not afraid of the government, not afraid of failure, or criticism, or anything else! We always act out of love – for God and for the people he created – and also out of …